Isabella Theotoki was born in the summer of 1760. Her father was a Corfiot from the famous Theotikis-Kalokardiaris family, and her mother was the Venetian Countess Nicoletta de Vejia. Her father took a personal interest in the education of his daughter, selecting worthy teachers, who taught her, among other things, Italian, French, Latin, and Ancient Greek.
At the age of 16, her family arranged for her to marry the middle-aged naval officer and later famous writer of historical treatises Carlo Antonio Marin (1745-1815) of Venice. After the birth of their son, they decided to move to Venice. Isabella would never return to her homeland, but it was never far from her thoughts and she supported every fight for the freedom of the Ionian islands in her own way.
In 1796, having divorced her first husband, she married Giovanni Battista IV Giuseppe Albrizzi, with whom she would have another son. Her second husband greatly admired Isabella's strong personality and supported the meetings that she organised in the Palazzo Albrizzi.
At that time, Venice was an important centre of European cultural, social, and artistic activity. Isabella soon demonstrated that she was a charismatic hostess. Her home became a meeting place for intellectuals: they discussed new trends and the ideas raised by the French Revolution, and she herself stood out for her wide-ranging knowledge, her humour, and the immediacy and directness she had with her audience, both as hostess and as writer. Her philological salons attracted personalities from throughout Europe, such as Ugo Foscolo, Antonio Canova, Madame de Staël, Goethe, Lord Byron, Chateubriand, Sir Walter Scott, Ioannis Capodistrias, Andreas Moustoxidis, and Mario Pieri.
Following the fall of the Venetian Democracy (1797), she travelled for a while to other Italian cities, as well as to Paris, where she also organised philological meetings with those who shared her progressive ideals.
Her death in 1836 plunged the intellectual world of Italy into mourning.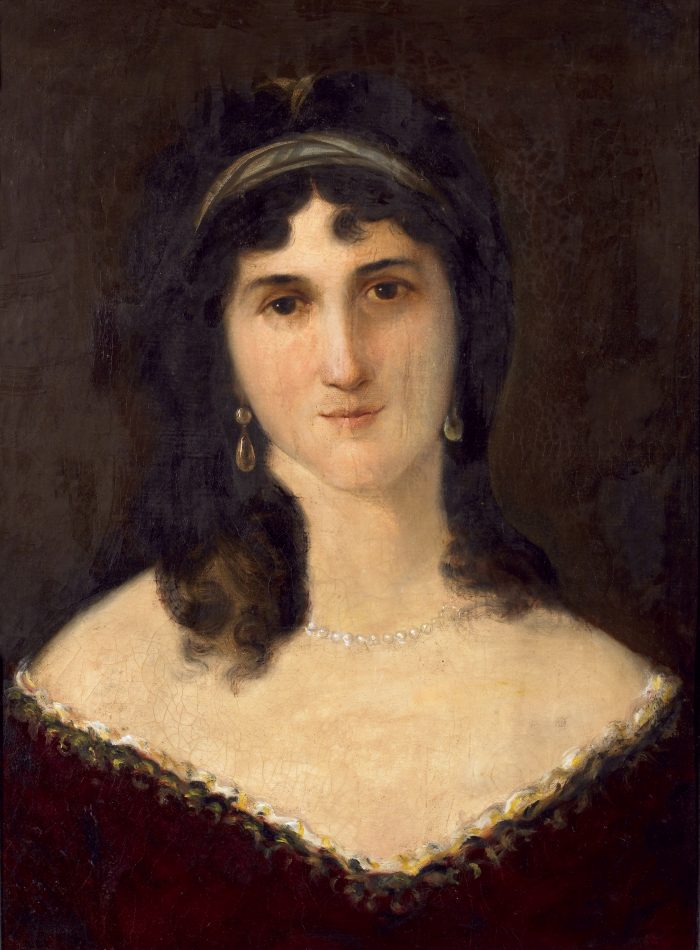 'Many countries suffer disputes and discord […] but in none have so many sacrifices been made for freedom' 
The literary salons of the time where places where educated women of high society could socialise, participating in the world of arts and letters. In this environment, female poets and authors could share their work and receive the criticism of fellow artists, as well as build a network that was friendly and supportive. Isabella Theotoki was highly celebrated as hostess for the high intellectual level of the gatherings she hosted in her salon. She became famous beyond the borders of Italy, prompting many men of letters to travel to Italy to meet her and join her club. It was said that at her salon one could hear simultaneous discussions being held in 20 different languages and local dialects. Isabella frequently spoke to her guests about Greece. She recalled the sun and beautiful nature of her birthplace, Corfu, and spoke with pride of the great Greek poets and writers. When Ioannis Capodistrias visited Italy (1819) as Foreign Minister of Russia, he did not miss the opportunity to spend some time with Isabella and her guests, among whom was also his good friend Andreas Moustoxidis. The friendships Capodistrias made with important European personalities at Isabellas philological salon would become part of network of acquaintances that would prove useful in the course of Greek independence. For the rest of his life, he would correspond with the famous salonnièreo of Italy. A frequent presence at Isabella's salons was her cousin Maria Petrettini (1772-1851), a dear friend of Mario Pieri. Maria was educated, clever, and social, a progressive thinker and prolific writer.