Elizabeth Moutzan was born in October 1801, in Zakynthos. Her noble descent, both from the side of her father, Frangiskos Moutzan, as well as that of her mother, Angeliki Sugourou, ensured Elizabeth a good life and allowed her to develop a love of learning and to cultivate her intellectual pursuits.
She received her early education from her mother and grandmother. Her mother wanted an education for Elizabeth, but her father did not feel that the intellectual development of his daughters was necessary. Despite this, when she turned 12, he made her study Italian grammar during the summer months. Soon, however, the arrival of yet another child, in combination with her father's unwillingness to teach her, meant that the lessons came to an end.
Her thirst for knowledge, however, was so great that she decided to learn Italian by herself, to be able to read literature. Her father was impressed by a letter written in perfect Italian that he received while he was in Corfu for the drafting of the new constitution of the Septinsular Republic. On returning home as the new prefect of Zakynthos, he saw firsthand the admirable progress made by the self-taught, fifteen-year-old Elizabeth and finally agreed to support her desire for an education. The monk Theodosios Dimadis from Constantinople became Betta's (as she was called affectionately by her relatives) next teacher. Dimadis had been appointed teacher of philosophy at a public college and, according to Elizabeth, was an exceptionally progressive man: kind and exceptionally well-read. Unfortunately, Dimadis had to leave Zakynthos for personal reasons.
In 1820, Elizabeth's insistence on having an education led her family to welcome yet another teacher: the monk Vasileios Romantzas. He had studied in Padua and had lived for almost ten years in Constantinople, teaching in a school that had been set up by the Ecumenical Patriarchy of Constantinople. For seven years, Elizabeth studied by his side daily, perfecting her Italian, ancient Greek, and French. The following year, during a visit to the Moutzan family home, her old teacher, Theodosios Dimadis, informed them of the outbreak of the Greek Revolution: 'The Greeks have taken up arms against the Ottomans […] Patra and the surrounding areas have already shaken off the yoke of slavery…'. She noted in her diary that, when she heard the news, she felt her blood boil with the desire to also bear arms. At the same time, however, she understood that, as a woman, and, furthermore, one from Zakynthos, this was an impossible dream: 'I said  I desired it from the bottom of my heart, but I looked at the walls of the house that keep me closed in; I looked at the long dress of female slavery, and I remembered that I am a woman, furthermore, a woman from Zakynthos, and I sighed…'.
A short while after the death of her teacher in 1826, and despite having frequently considered entering a convent-retreat (because she was suffocated by the pressure of her patriarchal environment and could devote herself to reading and writing), she finally gave in to family and social pressure and married Nikolaos Martinegou, a Zakynthian noble. They had a son, Elizavetios, in 1831. Elizabeth Moutzan-Martinegou died in Zakynthos the following year.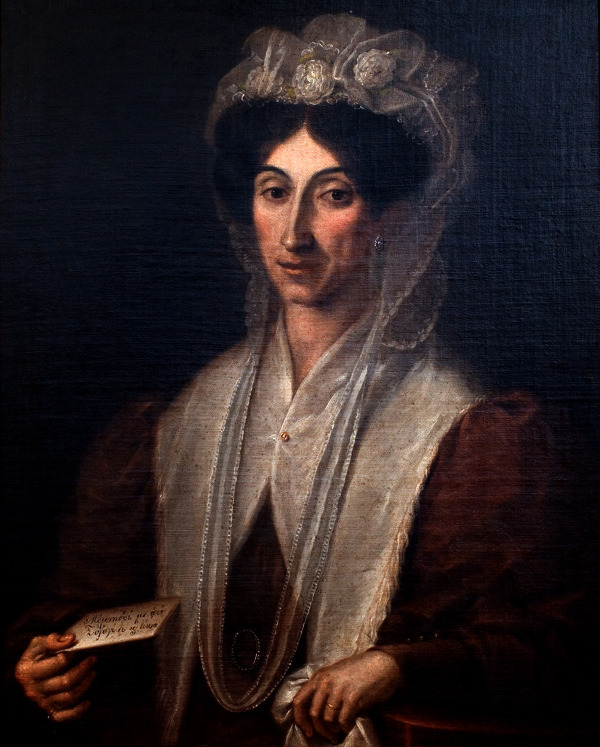 'It is my wish that I, the unfortunate, should also see liberty return to Greece…'
The first female Greek novelist
Elizabeth Moutzan-Martinegou is regarded as possibly the first female Greek novelist, having left more than ten theatrical dramas in Greek and around sixteen works in Italian. However, we would say that her most important work is her Autobiography. This is an important literary text, written with directness, grace and a romantic attitude in the colloquial language of the Ionian ruling class. Through a detailed sketch of her life, we gain a picture of the social life of an aristocratic woman at the beginning of the 19th century in Zakynthos. Elizabeth does not hesitate to bring up the conflict she experienced as a woman with the conservative society of her homeland. 'My mother had the responsibility for those things that are within the house; my uncle was and is responsible for and has authority over the property; my father took care of political affairs, and knew nothing of household matters, and so my mother was responsible for raising the children but did not have the means. […] Our household had (as it still does) that old-fashioned, barbaric, unnatural, and inhuman belief that women should be kept apart from human society'.
The restrictions and obstacles that young Elizabeth had to face led her to find comfort in her books and writing, and it was through these that she had her own revolution, at a time characterised by insurgency and the need for freedom. She was scathing about the limitations a male-dominated society placed on her sex. 'No, to being obedient and quiet just because this is what my relatives wished; no, to getting married, because this is not what I wished: and so I had to remain forever at home. Forever at home! Ah! This thought frightened me: I saw that this house had decided that it wished to cause me an imminent and dreadful death. […] What? I said to myself. Must I die, and die without doing good? Without having fulfilled that aim for which God places people on this earth? Miserable Eliza!'
Ultimately, Elizabeth gave in to the constant pressure from her family and decided to marry, believing that in this way she would at least be able to leave her family home, which was a prison to her.