Andreas Kalvos was born in Zakynthos in April 1792 to a noble woman from Zakynthos, Andriani Roukani, and an officer and professional soldier with the Venetian army, Ioannis (Giannetto) Kalvos.
In 1802, the nine-year-old Andreas, together with his brother Nikolaos, was forced to follow his father to Livorno in Italy, where his father settled for professional reasons following his divorce from Andreas' mother. The couple's decision to separate resulted in the poet leaving his birthplace, his first teacher, Antonios Martelaos, and, most importantly, his mother, who remained in Zakynthos.
During their stay in Italy, the two brothers received a classical education while simultaneously participating in the life of the active Greek community in Livorno. Andreas studied in Pisa and Florence, where he connected with his later mentor, the emblematic poet and scholar of Italy, Ugo Foscolo from Zakynthos. Andreas Kalvos' relationship with the liberal Foscolo would affect him deeply, both in his poetry and in the formation of his ideology. In 1814, he wrote the poem Ode agli Ionii [Ode to the Ionians] (1814), inspired by the passion of his compatriots for the independence of the Ionian Islands. It is important to note that Kalvos still wrote in Italian at that time.
In 1815, Foscolo went into self-imposed exile in Zurich to avoid possible arrest by the Austrian authorities and Kalvos followed him, passing through Geneva first for a while. They would both soon abandon Switzerland for London, which functioned as a refuge for political refugees from Europe. Kalvos made friends with British philhellenes and Italian political exiles—especially through the Italian-language periodical L'Ape Italiana a Londra. He gave lectures on the subject of the Greek language and wrote his first Greek ode, which would be published independently in 1819 under the title Elpis Patridos [Hope of a Homeland].
Kalvos would remain in London until 1820: the death of his first wife and their new-born daughter grieved him deeply. He returned to Florence and became connected with the national liberation movement of the Carbonari. His activities in Florentine and Roman revolutionary circles resulted in him being deported from Tuscany on 23rd April 1821. He headed for Geneva, a shelter for persecuted Italian political refugees. There he benefitted from the support of the Philhellenic Committee of Geneva, which helped Greek refugees reach Switzerland. His capacity for writing mixed with his revolutionary activity, resulting in the composing of twenty exceptional Odes that comprise the poet's legacy to the Struggle of the Greeks.
In 1826, Kalvis felt the urgent need to be near the centre of political developments. He decided to travel to Nafplio but left disappointed and finally settled in Corfu. The Ionian Academy awarded him a PhD and the honorary laurel wreath and welcomed him as professor of philosophy. He worked in home schooling for wealthy Corfiot families, and, for a short while, served as director of the Corfu Lyceum, whilst writing regular articles for local newspapers (Episimi Efimerida, Ioniou Kratous, Patris). He was a member of the Corfu Reading Society (1848).
In 1852, he left Corfu behind and settled permanently in England. He died of pneumonia in 1869 and was buried in Keddington. One hundred years later, his remains were transported to his homeland of Zakynthos, and, from 1968, have been stored in the specially designed mausoleum at the Museum of Solomos and Other Eminent People of Zakynthos, together with the remains of Dionysios Solomos.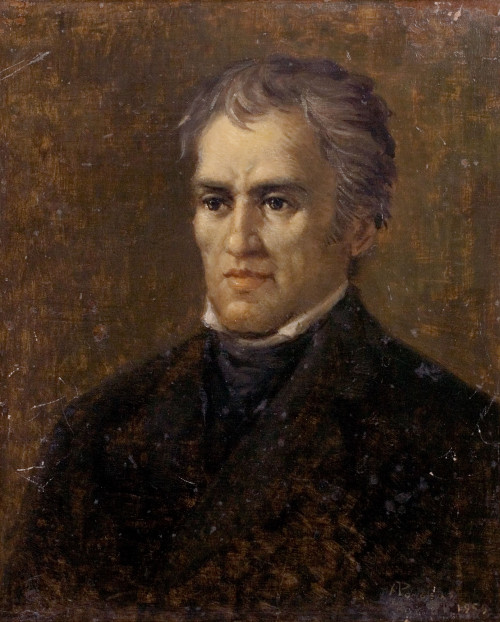 "I live with the bitterness that, until now, I have not been able to serve my country, and possibly, I will also fail to do so in the future…"

Click here to listen to Andreas Kalvos' poem "Oh, Philopatris" sung by the Singers of Zakynthos at "The Solomos and Illustrious Zakynthians' Museum".
Europe follows the Greek Revolution
Andreas Kalvos wrote to his childhood friend Andreas Louriotis in August 1825:
'[…] I live with the bitterness that, until now, I have not been able to serve my country, and possibly, I will not be able to do so in the future. I assure you, my dear friend, that I would have served voluntarily as a simple soldier. Each time I hear that a foreigner is leaving for Greece, my heart bleeds […]'
Barely a year later, his wish came true with the help of the Philhellenic Committee of Paris.
The Committee had undertaken to send basic necessities to Nafplio, where thousands of refugees had sought shelter following the fall of Mesolonghi and the arrival of Ibrahim Pasha in the Peloponnese. And so, on 17th June 1826, Kalvos left Paris as a member of the aid mission, but he was met with the resistance of the police, who denied him exit from France due to his political beliefs. However, Kalvos was determined to make his journey home. With the help of philhellenes working at the British Consulate, he was issued a new passport in Marseille and left from Toulon for Nafplio. On his journey, he saw Milos and Hydra, from where he wrote reports for the French periodical Revue Encyclopédique, through which he wished to present Europeans with a picture of revolutionary Greece. Following the arrival of the mission in Nafplio and a stay of only a few months that ended in disappointment, he returned to the Ionian Islands and settled in Corfu.